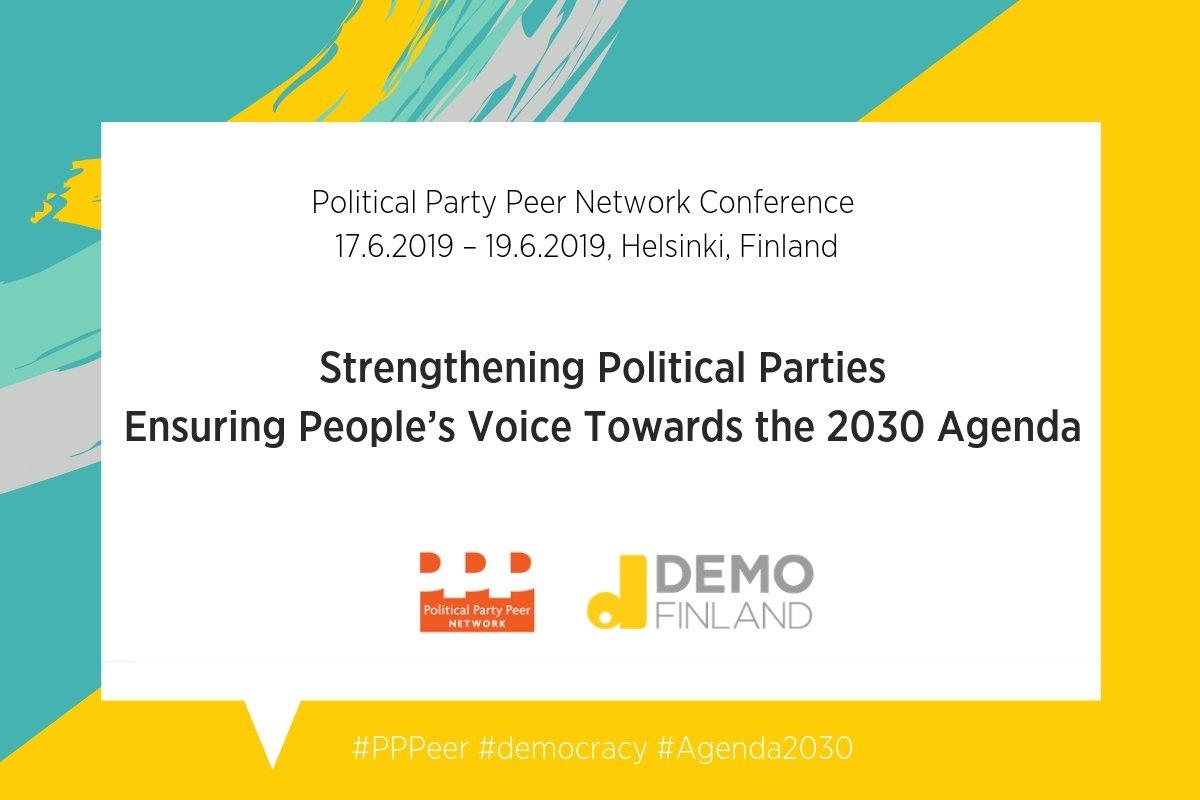 Political Party Peer Network Conference 2019 is held in Helsinki, Finland from 17th June to 19th June. From this website you will find all the information of the conference gathered in one place. Welcome to Helsinki!
The theme this year is "Strengthening political parties – Ensuring people's voice towards the 2030 Agenda".  The conference gathers democracy support actors, representatives from various organizations and stakeholders from different countries to Helsinki, Finland. The purpose of the conference is to share expertise, knowledge and experiences. The programme includes a panel discussion, different workshops organized by PPPeer Network Core Group organizations and plenary discussions.
NEWS
20.6.2019 Thank you for attending the conference! The report of the conference can be found here.
14.6.2019 Final programme available!
28.5.2019 FILES added: Lunch restaurants close to the venue (as suggestions where to have lunch before the conference starts on Monday) and the workshop rapporteur report template.
18.4.2019 Website open and invites to the conference sent!

PROGRAMME
Download the programme here (PDF)
FILES
Lunch restaurants close to the conference venue (PDF)
Conference workshop rapporteur report template (DOCX)
INFO
Monday June 17th
Registration opens at 11
Programme from 13 to 17:00
Evening reception from 17:00 onwards.
Tuesday June 18th
Doors open at 8:30
Programme from 9 to 17.
Core group meeting in the evening 17:30 onwards (meeting held in a restaurant nearby).
Wednesday June 19th
Doors open at 8:30
Programme from 9 to 14.
Nordic meeting from 14 to 16.
All programme, reception and Nordic Meeeting are held in House of the Estates, except the PPPeer Core Group meeting.
ACCOMODATION
Please note that the accommodation should be booked as soon as possible, due to heavy demand of hotels in Helsinki at that time. Accommodation bookings are to be done independently and are not included in the registration fee.
LOCATION

House of the Estates (in Finnish; Säätytalo) is in the vicinity of Senate Square right in the centre of Helsinki. The beautiful neo-renessaince building was built between 1888 and 1890.
The address is Snellmaninkatu 9-11, 00170 Helsinki.
Arriving to House of the Estates: Trams 4, 5 and 7. (Closest stops: Kansallisarkisto or Hallituskatu).
Closest metro stop: Helsingin Yliopisto.
Walking time from the Central Railway Station is 10 minutes.
HELSINKI
PPPeer Conference 2019 is held in Helsinki, Finland. More practical information about Helsinki can be found via this link.
Transportation
General information about the transportation in Helsinki via this link. Useful public transportation journey planner. There is a good public transport service of trams, busses and metro. Single ticket fare 2 to 3 euros. Information about public transportation tickets.
From airport to city centre: Circular train lines:  I train (Helsinki-Tikkurila-Airport-Myyrmäki-Helsinki) and P train (Helsinki-Myyrmäki-Airport-Tikkurila-Helsinki). Regional ticket is needed, and the fare is 5 euros. Ticket needs to be bought before boarding the train, there are several ticket machines by the platform. More information about the transportation to and from the airport here and here.
Taxi phone number 0100 0700
CONTACT DETAILS
Demo Finland
Practical arrangements, event coordination
Programme Assistant Anna Antila
+358 44 307 0995
anna.antila[at]demofinland.org
PARTNERS
The conference is organized in collaboration with Ministry for Foreign Affairs of Finland.
Demo Finland is organizing the event in coordination with the PPPeer Core Group.
Political Party Peer Network Core Group