For Wanja Maina (30), being active in politics is both a necessity and a passion. She has always been interested in politics, but also recognises the weight that one's voice has in a decision-making position. Influencing budgets is done through politics, and, as Maina puts it, if you're not budgeted, you're not important. As a young woman and a person with a disability (PWD), Maina knows how important it is to ensure that discriminated groups' needs are taken into account also in allocating money and not just in speeches and kind words.
In Kenya, the Constitution safeguards the rights of PWDs as it requires, among other things, that a person with any disability is entitled to be treated with dignity and respect and that state shall ensure the progressive implementation of the principle that at least five percent of the members of the public in elective and appointive bodies are PWDs. The reality remains somewhat different.
Despite the 5 % quota, PWDs have not been nominated in all County Assemblies, or the nomination may be based on cronyism. According to Maina, another problem is that PWDs are not always taken seriously and they are often limited to talk only about disability issues.
Inclusion advocate, youth leader and social media activist
Wanja Maina, who currently lives in Nairobi, has been an active inclusion advocate since she entered university. As PWDs are often left out, she saw the need to lobby and demand for PWDs to be given opportunity to participate. Her activism is not only about disability inclusion, but also about other social issues such as gender-based violence. She has been engaged in national and international forums alike, and when the COVID-19 crisis hit, she founded a corona caucus for PWDs and coordinated NGOs to provide support for PWDs. In addition, Maina is a popular blogger and has more than 200 000 followers on Facebook and 10 000 on Instagram.
Maina's activism has led to concrete actions, such as young people with disabilities being invited in a meeting between the President of Kenya and youth. "I said if there is budget to get youth from as far as 600 miles away, sure there is budget to have youth with disabilities." After Maina's active lobbying, around 45 youth with disabilities were invited in the meeting from which they were initially excluded, and one of them had the opportunity also to ask a question from the President.
Obstacles for political participation
The challenges that prevent PWDs from participating in politics are many. Maina lists issues such as lack of capacity and harmful attitudes. Many PWDs have not had an equal opportunity to go to school and get education, which does not only lead to a lack of capacity but also to self-doubt. They also face a lot of stereotypical attitudes, as they are played down and not treated as part of the team in politics. Money is another challenge because running election campaign without significant resources is extremely difficult. Maina also reminds that for women with disabilities it is even more difficult to participate in politics as they are even more discriminated and seen as incapable to lead. According to her, it is important not to treat women as a homogeneous group because there is also discrimination among women. Therefore, women with disabilities should be taken into consideration when supporting women's political participation.
Another challenge is electoral violence. "For me, as walking is difficult, I'm very afraid to go to places where there might be violence. If people start running, I'll be the last one to get out", Maina points out. In addition to physical violence, bullying is also a problem. Kenya is not an exception to cyberbullying that many politicians around the world face, and as an active young woman using her voice, Maina has had her share of it. "There is always people who will make you feel horrible", she says.
Maina entered formal politics in the age of 22 and is now active in the Kenya African National Union (KANU) Party. She sees many reasons for why it is important for PWDs to be represented in political decision-making. The first is money – by influencing budgets one can make a difference in people's lives. According to Maina, more money is needed for safe houses, for example. There are not enough of them – at least ones that are accessible for PWDs. Influencing legislation and policies is another reason to get into politics. For example, Maina sees a need to subsidise medication for children with disabilities whose families cannot always afford for the special medication needed.
Also, political participation is a right: "You are supposed to be in a position of decision-making because you're a Kenyan. The Constitution talks about the equality of citizens. If I have the national identity card of my country, I should be in all the places that I want to be, including tables of decision-making. Kenya has lots of PWDs and women with disabilities, but all decision-making positions are filled with men. How are they supposed to know about the lived experiences of poor women or PWDs in rural Kenya?"
Maina also sees that the political participation of underrepresented groups is empowering. Seeing PWDs being active in politics helps change attitudes and inspires others. Parents of children with disabilities see that it is important to educate their children as they can become anything they want.
Political parties – gatekeepers to politics
As gatekeepers to political decision-making, political parties have a role to play in supporting disability inclusion in politics. Maina has several recommendations on what political parties can do. First, they should safeguard the nomination lists and make sure that names of PWDs are not omitted from the lists. Second, parties should subsidise election costs for PWDs. Getting the ticket to stand as candidate costs a lot in Kenya, and parties could take into account the socio-economic inequalities and support PWDs with subsidisation. Third, political parties could support PWDs for example with merchandise and organising meetings. Fourth, they can offer PWDs opportunities for capacity building and skill development.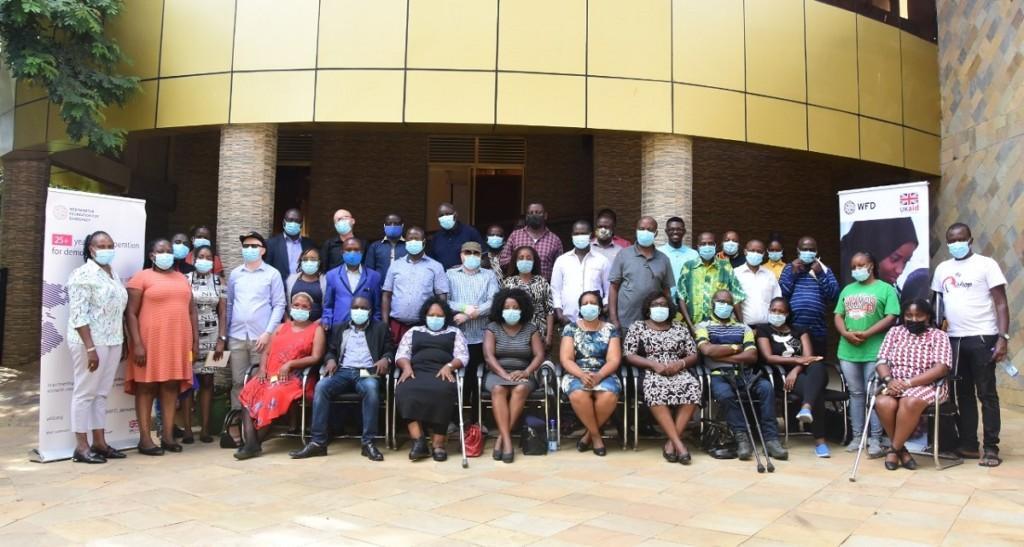 Most important, however, would be for political parties to see PWDs as any other candidates and treat them with dignity. According to Maina, PWDs are too often put in a box and allowed to speak about disability issues only, although they have insights and experiences on a variety of issues, just like anyone else.
In partnership with the Westminster Foundation for Democracy, Demo Finland has supported Kenyan political parties in the inclusion of PWDs in the Kenya Inclusive Political Parties (KIPP) programme from August 2020 to July 2021. The time period is critical as 2022 general elections are approaching.
The activities of the KIPP programme included trainings and mentoring to political parties as well as cross-party and bilateral meetings on the involvement and importance of the participation of PWDs in democracy and on the challenges faced by PWDs in politics. In addition, civil society organisations (CSOs) and disabled persons' organisations (DPOs) were supported in better engaging and advocating political parties and other duty bearers for the inclusion of PWDs in politics. 13 political parties have been involved in the programme.
Concrete actions to more inclusive politics
As a result of the programme, there has been substantial progress in the attitudes and actions of the political parties, as most of them have taken concrete steps to promote inclusion. They have also shown their commitment by active participation in the programme trainings and meetings. At the beginning of the programme, only two parties had disability leagues. To date, nine more parties have formed their disability leagues, eight parties have nominated PWDs in their national executive committees and ten parties have reviewed their party documents and structures in order to make them more inclusive.
Other commitments towards disability inclusion include making party offices accessible and waiving registration fees for PWDs interested in joining parties as members. The 13 parties involved also jointly developed and presented memoranda to the National Assembly and the Senate on proposed amendments to legislation that provides a framework for disability inclusion in elective politics.
The political parties have appreciated the joint engagements with the CSOs and DPOs which has led to the emergence of a number of informal and formal relationships. The strengthened level of trust between parties and CSOs/DPOs is a good starting point for joint advocacy on disability inclusion, and the second phase of the KIPP programme will focus on this relationship more.
Wanja Maina has also noted changes during the programme period, as she has now been involved in other party meetings than just the PWDs' meetings and is better informed on what's happening and where. She is also pleased with more political parties now having their disability leagues. In addition, she says the programme has helped the PWDs to lobby internally in the party.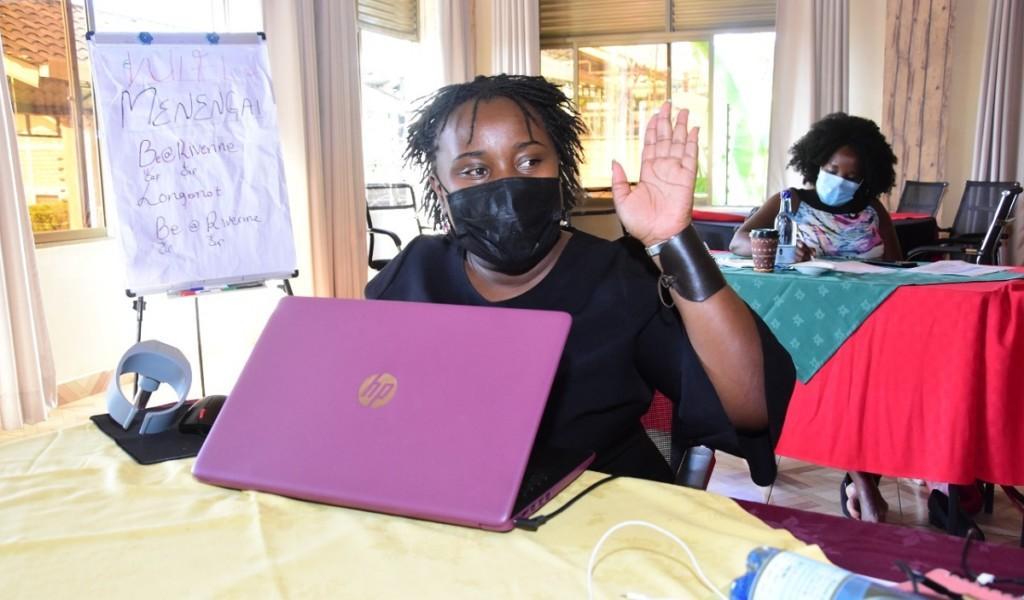 The work continues
Encouraging results have been achieved, but the work is not over. The KIPP programme's second phase is ongoing, and new stakeholders will be included such as the media and the Independent Electoral and Boundaries Commission (IEBC), the body responsible for conducting and supervising elections. Wanja Maina also has a few recommendations for IECB and political parties in order to ensure that PWDs have equal opportunities to participate in the elections both as voters and as candidates. According to her, voter education and support for voter registration are needed, and the accessibility of polling stations should be improved. Electoral violence is also an issue that must be tackled. As far as the KIPP programme is concerned, special trainings for women with disabilities and international experience sharing are components that she would like to see in the future.
Maina's own plans for next year's elections are still open. There is no question about whether she's interested in becoming a Member of Parliament – she has many ideas about issues that should be improved in her constituency such as access to water and education and economic empowerment of women. The question is about how much resources are needed to stand as candidate and whether it is possible to get nominated by the party.
The elections are less than a year away, and the political parties of Kenya have gotten off to a good start in improving the participation of PWDs.
You can follow Wanja Maina on Instagram at @thewanjaah and on Twitter at @wanjaah.
—
Kenya Inclusive Political Parties (KIPP) Programme
Partner: Westminster Foundation for Democracy
First phase: August 2020 – July 2021
Second phase: August 2021 – November 2022
Objectives:
strengthen the capacities of Kenyan political parties in the inclusion of persons with disabilities
strengthen the capacities of Kenyan DPOs and CSOs in advocating for political participation of PWDs
Results:
11 parties have expressed their commitment to increase disability inclusion by signing a Memorandum of Understanding
9 parties have established disability leagues
8 parties have nominated PWDs in their national executive committees
10 parties have reviewed their party documents and structures from inclusion perspective
13 parties jointly developed and presented memoranda to the National Assembly and the Senate on proposed amendments to legislation