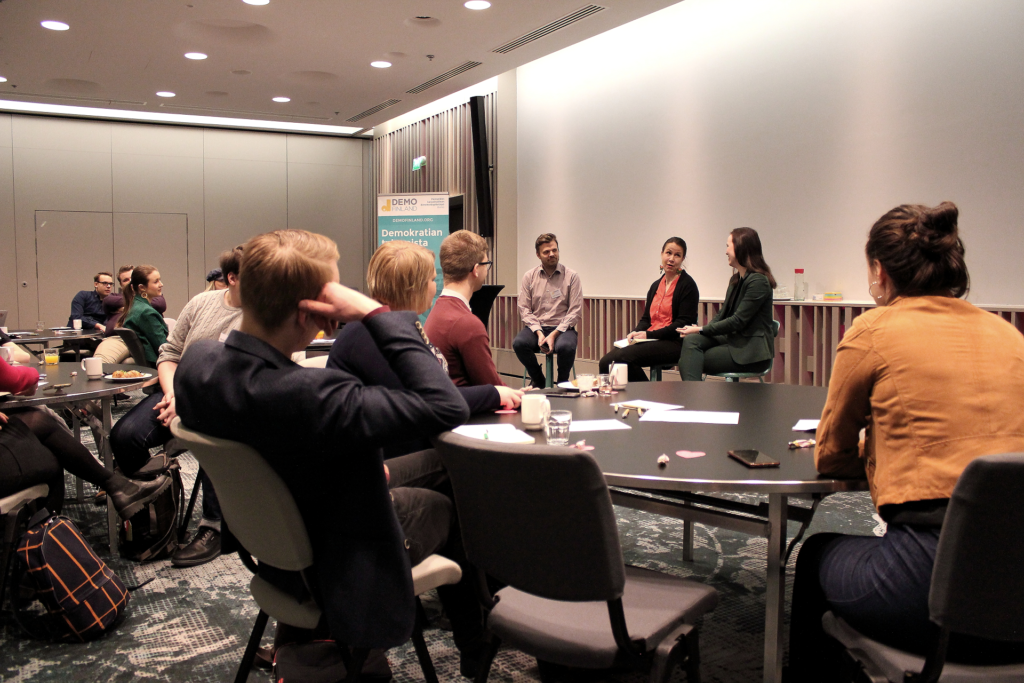 Finland's leading expert and advocacy organisation on democracy support
In Finland, Demo Finland aims to build the capacity and commitment of Finnish political parties to democracy support and to enhance multi-party dialogue and inclusivity of the parties. Demo Finland offers its expertise to Finnish political parties and government officials so that their commitment to democracy may turn into effective democracy support policies.
Our work in Finland
Demo Finland closely co-operates with the Parliament and its Committees, political party offices and political youth and women's organisations. It organises seminars and training events related to democracy and development and produces publications.
Demo Finland regularly organises training programmes targeted especially at political youth and student or women's organisations. The training programmes bring together representatives of different parties for dialogue and to deepen their understanding on democracy and current foreign policy issues. Participants of the Youth Democracy Academy can join the Democracy Academy alumni network, which meets about twice a year to hear presentations on current issues on democratic development and to discuss with other alumni.
In 2022, together with the parliamentary parties, Demo Finland started work to strengthen the political participation of persons with disabilities. Demo Finland coordinates a working group formed by the parties, the aim of which is to discuss and promote the participation of persons with disabilities in Finnish parties, peer learning from parties in Demo Finland's programme countries, and to monitor and map the progress of equality and accessibility of political party activities in Finland.
In 2020, Demo Finland established a peace and dialogue group of Finnish MPs to strengthen MPs' dialogue skills, so that they can bring their expertise and experience of multi-party co-operation to the use of, for example, Finland's partner countries in challenging political situations. The group has received training in dialogue facilitation and peace mediation skills.
Advocacy
Demo Finland's advocacy work aims to promote democracy support in political party programmes and in national and international policies.
On European level, Demo Finland actively participates in the advocacy work and knowledge production of its umbrella organisation the European Partnership for Democracy (EPD), and through its board membership in the Global Partnership for Multiparty Democracy (GPMD) and membership in the Global Democracy Coalition. Demo Finland is also part of a global advocacy network. In Finland, Demo Finland is a member of the National Commission on Sustainable Development, is actively engaged in the Development Policy Committee, participates in the work of the networks that monitor the implementation of the UN Resolutions 1325 on Women, Peace and Security and 2250 on Youth, Peace and Security, comments on statements and reports of ministries, political parties and other stakeholders and produces statements related to democracy support. In addition, Demo Finland actively maintains contact with its member parties and strengthens their expertise in democracy support.
Results of our work
Participants of the Youth Democracy Academy have improved capacities that they can utilise in their political careers.
Women politicians who participated in training programmes have enhanced skills and readiness to take part in political debate over foreign and security policy issues.
Political parties' working group to improve inclusion of persons with disabilities has been established.
Demo Finland's campaign for the improvement of voting rights of conscripts in Finnish Defence Forces together with all youth wings of Finnish parliamentary parties and Varusmiesliitto (The Finnish Conscripts' Union) was successful as an amendment in the electoral legislation enabled garrison voting in all elections.