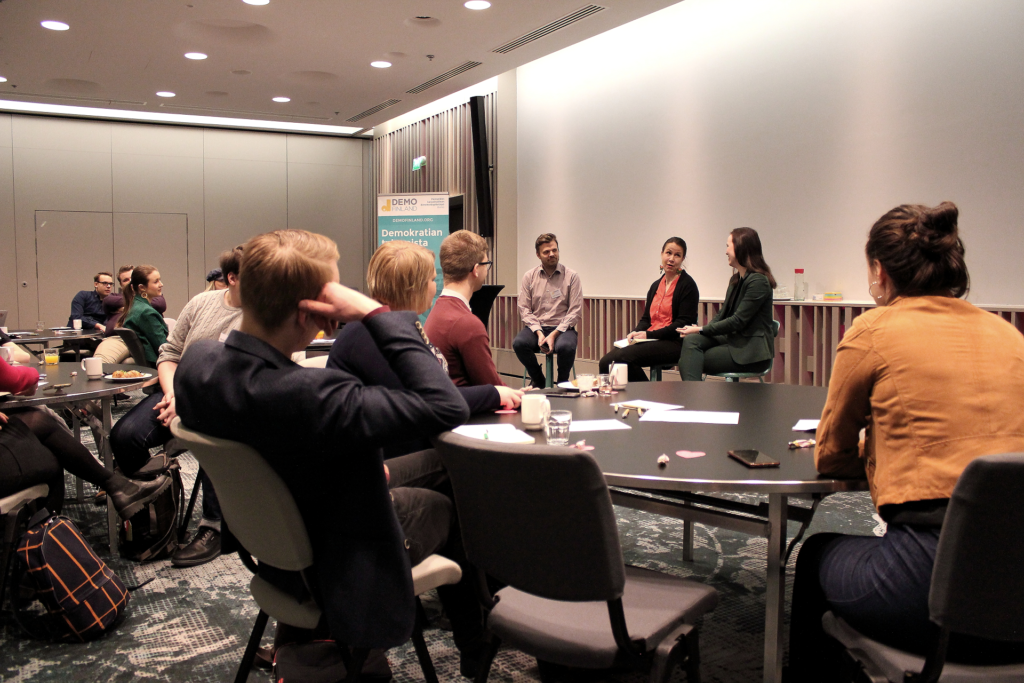 Demo Finland is a joint organisation of all the Finnish parliamentary parties and in a unique position to bring them together to work for democracy. Demo Finland is the leading Finnish expert of democracy support and its vision is a world where everyone can equally participate in democratic decision-making. 
Our work in Finland
In Finland, Demo Finland aims at building the capacity of and commitment to issues concerning democracy and development among political parties. Demo Finland offers a chance for Finnish political parties and politicians to utilize their personal expertise from politics and to gain practical experience in democracy support.
Demo Finland closely co-operates with the Parliament and its Committees, political party offices and political youth and women's organisations. It organises seminars and training events related to democracy and development. Political parties have a chance to take part in Demo Finland's work in Finland for example by participating in these events or in the visits of international delegations. Demo Finland also does event co-operation with other stakeholders and participates in the party conventions of its member parties. 
In addition to events, Demo Finland also organises Democracy Academies, targeted especially at political youth and student or women's organisations. The Academies bring together representatives of different parties to deepen their understanding on democracy and current foreign policy issues.
Advocacy
Advocacy and building networks with influential stakeholders are one of the key elements of Demo Finland's work. On European level, Demo Finland actively participates in the advocacy work and knowledge production of its umbrella organisation the European Partnership for Democracy (EPD), and through its board membership in the Global Partnership for Multiparty Democracy (GPMD) Demo Finland is also part of a global advocacy network. In Finland, Demo Finland participates in the work of the networks that monitor the implementation of the UN Resolutions 1325 on Women, Peace and Security and 2250 on Youth, Peace and Security. Demo Finland also produces publications, comments on statements and reports of ministries, political parties and other stakeholders and provides counseling in issues related to democracy support. Demo Finland is a member of the Finnish Development Policy Committee and of the National Commission on Sustainable Development.