The capital of Sri Lanka, Colombo, hosted the World Conference on Youth 6.–10.5. offering the Joint Youth and Student Platform of Nepal (JYSP) a valuable opportunity to showcase their experience of fruitful political cooperation across the party lines taking place since 2007. During the week, the Nepalese youth also met with a large number of Sri Lankan youth politicians sharing and discussing issues common to the South Asian region.
During the discussions with local politicians, the youth soon realized that similar issues are facing both countries. Youth unemployment and general lack of opportunities, climate change and corruption were identified as some of the most pressing issues currently. The Nepalese youth were impressed by the development of infrastructure in Sri Lanka but at the same time discouraged with the fact of political space narrowing in the country. Also, the low level of women participation in Sri Lankan politics raised worrisome thoughts.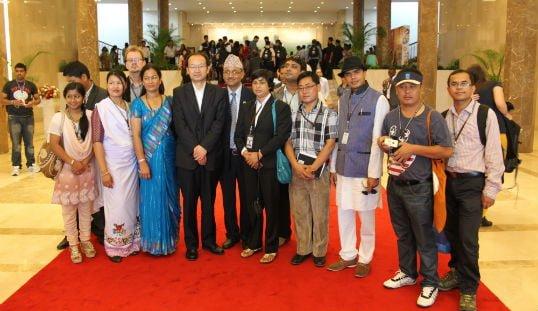 The highlight of the week was a parallel event at the World Conference hosted together by JYSP and Demo Finland. The JYSP showcased their history and experience of cooperation explaining the hardships of civil war leading to the situation when the Youth and Students decided to join forces and work together for common goals despite their different political ideologies and backgrounds. Emotional speeches and the fact that the youth representing nine different parties wanted to travel to Sri Lanka and share their example convinced the audience of the importance of political cooperation across party lines. The Honourable Nepalese Minister for Youth also showed his support by being present at the event.
South Asia is home to around a third of the entire world's youth. However, their voice is not necessarily heard in the national and regional politics. In addition to the Nepalese and Sri Lankan youth, also Indian youth for instance, expressed their interest in enhanced regional political youth cooperation.