In January, three Finnish youth politicians participated in a training programme on non-formal education and active participation of youth. The training was organised in Slovenia as part of Demo Finland's project Youth Creating Solutions for Meaningful Participation, supported by the Erasmus+ programme of the European Commission. The project brings together active young people and youth workers or trainers working with youth from Finland, Slovenia, Nepal and Bangladesh. The training was hosted by Demo Finland's Slovenian partner organisation, Youth Network MaMa.
From participants to trainers
The first part of the almost two-week programme consisted of a training of trainers, during which the participants got familiar with the structures of youth work in the other countries as well as the opportunities of non-formal education, and shared good practices on active participation. Peer support and mutual learning among the participants from different organisations and cultures had a key role during the whole training.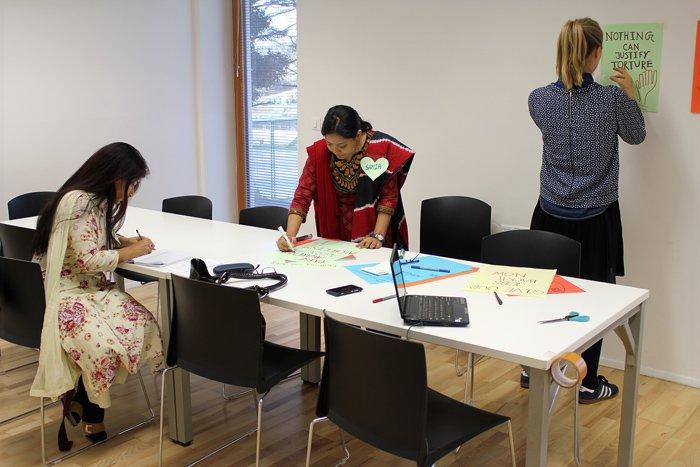 As the intensive programme went further, the participants got more responsibility on planning and implementing the content in small groups. In the end, they organised a two-day pilot training to a group of 20 Slovenian youth workers. Thus, the international group of participants became a big, multicultural training team that received good feedback from the local participants and managed to implement successfully the two-day training despite the short planning time and the challenges of working in a diverse team.
Challenges of teamwork
Working in teams was seen as stormy but also rewarding, as one of the biggest learning processes of the training programme was the harmonization of different ways of working for a mutual goal.
"We have laughed together, cried together, and argued. And still we've been like a family!" said Heidi Keränen from the Social Democratic Youth after a successful pilot training.
"It feels as if I had learned to do a somersault", Ellen Söderlund from the Swedish People's Party Youth depicted her feelings on the last day.
One of the most important outcomes of the training programme was the increase of intercultural understanding while working together closely, but also practical methods and skills for strengthening the active participation of youth and for being a trainer were acquired. According to Liina Hauru (Centre Party Youth), the experience encourages to participate in international activities also in the future.